---
Powerful Tyres
The tyre is a high tech product and is optimized for every application. Whether racing tyres or construction machinery, each tyre is given specific characteristics to meet the requirements.
Rim and more
We have all rim brands and all designs. In our configurator you can mount the rims on your vehicle.
Rim and tyre
Complete wheels consisting of tyres and rims and optionally with TPMS we cover all vehicles.
We have provide best consulting service
Our Service:
Forecast planing
Best price analysing
Big data analysis methods.
When you talk about tyres, everyone thinks of round and black. But the fact that there are optimized tyres for every kind of use, for example car, truck or airplane and every weather does not occur to you directly. In India many other tires are used. Think of construction sites, racing cars or agricultural use of tyres. Tyres are high end products that are constantly being further developed. The tyre is the only connection product between car and the road. Most people know it as grip. We have all tyres in our portfolio for all vehicle (cars, trucks, bus aso.). Search for Dunlop or Goodyear or diagonal or radial tyres? For each vehicle you can find products at super prices with us. For various vehicles such as offroad or agricultural machinery we have optimized tires With us you get all tyres at always the best price. For larger quantities we can offer you special prices.
Car tyres and motorcycle tyres are probably the most sold products. They are often sold as complete wheels, for example a summer tyre with a Borbet rim or a all season tyre form pirelli with a mak wheels.
Car tires are also subject to special requirements. So it makes a difference whether a 1000 pound vehicle wants 70 miles/hour tires or a 4000 pound SUV with a top speed of 180 miles/hour. In addition to the speed index, the load-bearing capacity of the tire plays an important role here.
The tread of a tire or track refers to the rubber at its circumference that comes into contact with the road or ground. When tyres are used, the tread is worn out, which reduces its traction efficiency. A worn tyre can often be retreaded.
Example car tyre:
165/80 R14 85S MRF ZV2K (tyre size: 165/80 R14, brand: MRF, tread:ZV2K, road tires, here no TT so it is tubeless)
Example Bike tyre:
120/70 Z R17 TL (58W) M/C Michelin Pilot Power (Kind: Bike, tread: Pilot Power, TL: tubeless)
Directional tyres - how to recognise them (left or right tyre )
Modern tires often have a binding in the running direction. when standing in front of the vehicle and looking at the tyres the tread grooves look like a U or V. This gives the wheel the best possible performance. The car tyre manufacturer has indicated the running direction on the sidewall of the wheel. The benefits include better traction and aquapaning and lower noise emission
Wet grip, noise reduction and rolling resistance have been integrated into the European tyre label
There are many important brands, like michelin, goodear, bridgestone or pirelli in the market.
Which tyre is the best for you depends on many factors. To name just a few, these are the vehicle itself, the weather, the routes you drive and the way you drive.
Please read here
more informations over wholesaler
In contrast to the tyre manufacturer, which usually produces only one or a few brands, the wholesaling unites several many brands in its warehouse and can therefore provide the customer with a significantly greater variety of tyres. The advantage for the buyer is competent contact, delivery and the price.
tyre - Truck Summer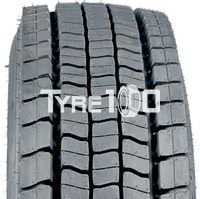 Description:
Summer truck tyre (225/75 R17,5 C Regional RHS 2 0)
Brand:
Goodyear
EAN:
5452000730282
Tyre100 ID:
T100-9184087
Business customers in the towns below buy on our site:
695122 Neyyattinkara;Mariyapuram B.O
412212 Velhe;Antroli B.O
629201 Agastheeswaram;Asaripallam S.O
The following items are also on sale:
Luggage and suitcase and also Rims and Chip tuning + Motor tuning, Accessories
You may also be interested in:
---
The Regional RHS 2 tyre from Goodyear is available in several dimensions.
The Goodyear Regional RHS 2 presented above has a diameter of 17,5 inches. This Truck Summer tyre must be mounted on a steel or an alloy rim with a diameter of 17,5 inches. The width of the tyre face is 225 and the height is 75. It means that the size of the sidewall is 75% of the width of the tyre face. The maximum load that a tyre cancarry is shown by the load index indicated on the sidewall of the tyre (eg. with an index of 97, the maximum load is 730 kg). The load index of the above model is equal to 127/129. The load capacity of the Goodyear Regional RHS 2 corresponding to this index of 127/129 should not be exceeded. The maximum speed that the tyre is capable of maintaining is represented by the letter M. This maximum speed, this Goodyear Regional RHS 2 is capable of maintaining, should not be exceeded.
---
The following items are also on sale: accessories, Kerscher and Accessories as well as Quad parts,

1*) Price differential : calculated for the past 6 months between the highest and lowest prices for
Truck Summer Goodyear Regional RHS 2 225 75 17,5 127/129 M , including VAT and services not comprised.
This domain can be purchased as a bundle with all important tyre and tire domains from india. Please understand that only serious requests incl. asking price will be processed at all. With these domains you are the only one who has the advantage to receive organic searches forever with top rankings.
Tyre.in, Tyre24.in
Tyre.co.in, Tyre24.co.in
Tire.in, Tire24.in
Tire.co.in, Tire24.co.in
Increase search volume (tyre, tire)
More than 500 wholesalers in the fields of tyres, rims and car parts offer you excellent price and stock transparency. In addition to the standard delivery time of 24-48 hours, you can choose between different shipping methods such as express delivery, same-day delivery or self-collection. By modern search methods, you find simply and fast the suitable spare part. Whether for the VW Golf, the BMW 3 Series, the Audi A4 or the Opel Astra. With us you find spare parts of high quality at favourable prices. As a new partner, you can of course test us in advance without obligation and free of charge. Registration is free of charge for you and without any contractual obligations. Register online today and profit from the wide range of over 500 wholesalers, an excellent Value for money, fast delivery and an intelligent search method, which allows you to find any part for your car in the shortest possible time.
They have a large selection of top brands such as A.B.S., Ajusa, ATE, Bilstein, Bosch, Blue Print,
Castrol, Febest, Gates, Kamoka, Kraft Automotive, KYB, Mann, Mapco, Maxgear, TRW, Sachs, Westfalie and many more at prices that will inspire you. at prices that will inspire you.
Whether spare and wear parts, tools, care products or oils - we are constantly expanding the range for you, so that you can order everything for your car around the clock.
Spare parts for all cars
Over 50 million car parts with a goods value of over 50 billion euros, 365 days a year. Take advantage of our extensive range of products in our online shop. We offer you spare parts from renowned manufacturers for almost all car brands. Whether Audi, BMW, Opel, Mercedes-Benz or VW, with us you will find the right car parts for your vehicle. The assortment includes all wear parts such as brake pads, brake pads, inspection parts such as oil filters, air filters, cabin filters, fuel filters, toothed belts, spark plugs, etc. You will also find tuning parts such as suspension springs, shock absorbers and exhausts at the best price. And best of all, you will also find the right tool for the car parts in our accessories shop.
Brands and assortment
On our website you have a large selection of top brands like A.B.S., Ajusa, ATE, Bilstein, Bosch, Blue Print, Castrol, Febest, Gates, Kamoka, Kraft Automotive, KYB, Mann, Mapco, Maxgear, TRW, Sachs, Westfalie and many more at prices that will inspire you. at prices that will inspire you. Whether spare and wear parts, tools, care products or oils - we are constantly expanding the range for you, so that you can order everything for your car around the clock. and received within 24-48 hours. And if things have to go fast, some wholesalers also offer express delivery. Choose from a wide range of spare parts, such as
Brake discs
Sensors
Shock absorber
Disc brake lining
Wheel bearing/set
Cylinder head gasket
Brake caliper/bracket (carrier)
Handlebars
Sensor/Sensor
Additional work
Wheel bearing
Control interval
Air filter/air filter box
Air filter
Chassis spring/chassis set
Brake lining/shoe
Driving dynamics control
Tie rod/-joint
Motor electrics
Stabilizer/Accessories and much more
Renowned brand products from various suppliers in direct price comparison
In addition to particularly inexpensive car parts, all well-known product manufacturers also offer premium manufacturers.
Among them, for example:
Audi
BMW
Ford
fiat
Nissan
Mazda
Mercedes-Benz
Opel
Renault
Toyota
VW
Peugeot