Overview of the different rim types
Rims today are made of either steel, light metal or composite materials. Car rims are rolled, cast or forged. There are one-piece rims and multi-piece rims. Light alloy rims usually look more beautiful and are lighter, which is why they're mostly used in e-cars.
Rims are available for different types of use:
bicycle
motorbike
commercial vehicles
car
A wheel is a circular object that rotates around an axle and is used to facilitate transportation of heavy objects. It was invented in ancient times and is considered one of the most important inventions in human history. Wheels are made from a variety of materials, including wood, metal, and plastic, and come in many different sizes and shapes to suit different needs. They can be found on vehicles such as cars, trucks, and buses, as well as on bicycles, carts, and other mobile devices. The shape and design of a wheel can impact its performance, including factors such as traction, durability, and speed.
A rim is the outer edge of a wheel that holds the tire in place and helps to maintain its shape. It is a key component of a wheel and is typically made from metal, such as aluminum or steel. The size and style of a rim can affect the appearance and performance of a vehicle. For example, larger rims can provide a more aggressive look and improved handling, while lightweight rims can improve acceleration and fuel efficiency. Rims are available in a variety of designs, including standard, sport, and luxury styles, and can be customized to suit individual preferences. Additionally, some rims are designed specifically for high-performance or off-road driving, with features such as reinforced construction and unique patterns to provide enhanced traction and durability.
Some technical aspects of rims:
Width: Refers to the distance between the inside edges of the rim and affects tire fit and stability.
Bolt pattern: Refers to the number of bolts and their arrangement that hold the rim to the vehicle's hub.
Offset: The distance between the centerline of the wheel and the mounting surface of the hub, which affects the vehicle's handling and stability.
Lip: The outer edge of the rim that protrudes beyond the tire bead and gives the wheel a finished look.
Load capacity: The maximum weight the rim can safely support, which is determined by its size, material, and design.
Center bore: The size and shape of the hole in the center of the rim that fits onto the hub.
Backspacing: The distance from the inside edge of the rim to the mounting surface, which impacts tire clearance and handling.
Valve stem: A small valve that allows air to be added or removed from the tire, and is usually mounted in the rim.
These technical specifications are important for selecting the correct rims for a vehicle, as a mismatched rim can affect the vehicle's performance and safety.
Rims come in a variety of designs:
Multi-spoke: A classic design with multiple thin spokes that converge at the center of the wheel.
Mesh: A style featuring interlocking metal bars that create a diamond-shaped pattern.
Concave: A design with an inward curve that gives the wheel a deeper profile and enhances its appearance.
Deep dish: A style with a pronounced lip that extends far beyond the tire, giving the wheel a dramatic look.
Forged: A manufacturing process that shapes metal under high pressure to create a strong and lightweight wheel.
Custom painted: Rims that have been specially painted or coated to match or contrast with the vehicle's color.
Chrome-plated: A popular design featuring a bright, reflective finish created by applying a layer of chromium to the metal surface.
These designs can add style and personalization to a vehicle, and some also improve performance by reducing weight or improving aerodynamics. However, it is important to make sure the selected design is compatible with the vehicle's specifications and meets all safety requirements.
Rims can be made from a variety of materials:
Steel: Strong and durable, but heavier than other materials, making it a good choice for heavy-duty vehicles.
Aluminum: Lightweight and corrosion-resistant, making it a popular choice for performance vehicles.
Magnesium: Extremely lightweight, but also expensive and more brittle than other materials, making it rarer in the market.
Carbon fiber: Extremely light and strong, with a unique appearance, making it a popular choice for high-end and racing vehicles.
Titanium: Lightweight, strong and resistant to corrosion, but also expensive, making it less common in the market.
The choice of material depends on factors such as the intended use, driving conditions, budget, and personal preference. Steel rims are often less expensive, while aluminum and carbon fiber rims are more expensive but offer improved performance and aesthetics.
Example:
BIG RIMS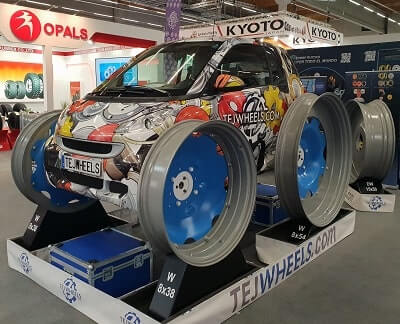 You will find in our online marketplace for trade all original manufacturers, from BBS rims, Borbet, Diewe Wheels to OZ and Xtra Wheels. We offer aluminium rims with matching tyres in all sizes, whether 13 inches, 17 inches or 24 inches. You can also buy larger wheels for almost all vehicle classes. In the wheel shop you will find light alloy wheels and a huge online assortment of steel wheels in all sizes. At the end of the page you will find an excerpt with the rim manufacturers, aluminium rims and steel rims, which you can get on tyre100 - Germany.
With our rim configurator you can choose for each vehicle from hundreds of rims, the aluminium or steel rims cheaper as well as exclusive manufacturers, which you like optically best. Millions of rim and tyre combinations are always available for you to choose from. You can order them with or without RDKS as well as mounted or individually. We also have a lot to offer in terms of colour. Beside silver and black you will also find light alloy wheels in all tuning colours like orange, green, pink etc.. Whether highly polished, matt or chrome-plated - in the rim configurator you will always find the right rim. Buy in our shop in just a few steps, you will arrive at the desired aluminum or steel rim. We offer you various search options, such as vehicle search or key numbers (HSN/TSN). Find suitable rims for Audi, BMW, Ford and VW. Then choose whether you want to find aluminium rims, steel rims or complete wheels and you can already have a look at the approved rims. Also further search filters like RDKS service, manufacturer, size etc. are to you at the disposal. Of course, you will also receive technical data and the ABE or the expert opinion.
Complete wheels aluminium and steel
In our complete wheel shop you can directly select the suitable favorable complete wheel from millions of finished complete wheels (rim, tires & assembly). In addition to the classic rim features, you can also choose from the necessary tyres with their features in our shop. In the rim configurator you get winter complete wheels, summer complete wheels or year-round complete wheels and suitable tyres. With just a few clicks you can view all available complete wheel sets for your car. Select the desired vehicle, click on "Finished complete wheels" and all wheel-tyre combinations will be displayed. Do you prefer a specific wheel or tyre? Simply use the filter function and enter the corresponding tyre features or rim features. Whether steel or aluminium complete wheels, you buy a huge selection of different tyre and rim manufacturers online.
Extract of the rim manufacturers:
ADVANTI
AEZ
Alcar
Alutec
ATS
AUTEC
AVUS
axxion
BBS
borbet
lump
CARMANI
CMS
DBV
Discreet
THE WHEELS DOTZ
ENZO
GMP
HRE
KESKIN
MAK
MAM
mefro
masterpiece
MSW
MWD
NB Wheels
OXIGIN
OXXO
OZ
PLATINUM
proline
RACER
RC design
RH aluminium wheel rial
ronal
RONDEL
TEC Speedwheels
TOMASON
ultra wheels
V1 Wheels
WheelWorld